So, we've finally come full circle. My final blog post. In one of my first posts of the trip, I spoke about many of the different foods I've had the opportunity to try since coming to Peru - anticuchos, alpaca, choclo, the works. Until two days ago, I felt like the top of the Peruvian food chain, confident in my culinary prowess and excited to try new dishes. Little did I know how wrong I was. It seems that in the south of Peru, the hunter became the hunted.
I don't know how it happened. I have a foggy idea of when - my ankles indicate it must have been during rafting, my legs and hands during the ATVs - but it should never have occurred in the first place. I put on bug spray - a
lot
of bug spray. Deet was my vampire's garlic, my werewolf's silver bullet, but this time it failed me. So here I am, leaving Peru after a wonderful, month long journey. I leave with many gifts - bottles of Inca Cola, alpaca woven clothing, trinkets and crafts, and 33 of the itchiest bug bites I've ever had. These bites don't seem like they're from mosquitoes, at least no type of mosquito I've ever seen. They look kind of like mosquito bites, except for the strenge, needle point scab in the center. Something bit me. A were-squito? A Chupacabra? I did some investigating, and the best thing I could come up with was this: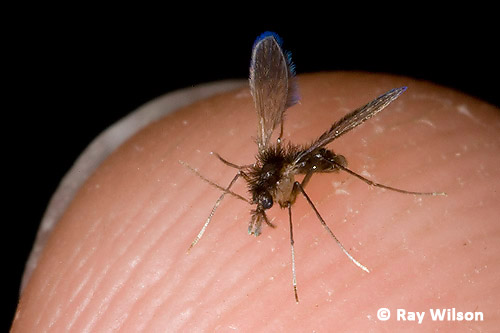 The humble sand fly - Public Enemy Number 1
That's a sand fly, and my investigations on Google Image show that that little creature is perhaps the most likely source of my now perpetual itchiness. Luckily, I'm not alone in this fight. I have an ally, a friend, a kngith in shining armor. It's name is Andantol. It's like Peruvian Benadryl. It works though, which is all that maters, and as long as I keep slathering it on my insect bites, I win the fight against the itch. It's a tough life, the life of prey. But, all I can do is grab my andantol, head to Jorge Chavez airport, and head back to the United States, thankful for ALL of the things that Peru has given me over the past month.
After all, I may have been eaten alive, but I suspect it's a lot worse for the guinea pigs.